Spring just started so it's not a surprise that Olens has new lenses ideal for this season and believe me this new march release is so chic! Olens French Shine series were selected by new Olens Ambassadors - New Jeans. Do you want to know more about these lenses and events which Olens prepared?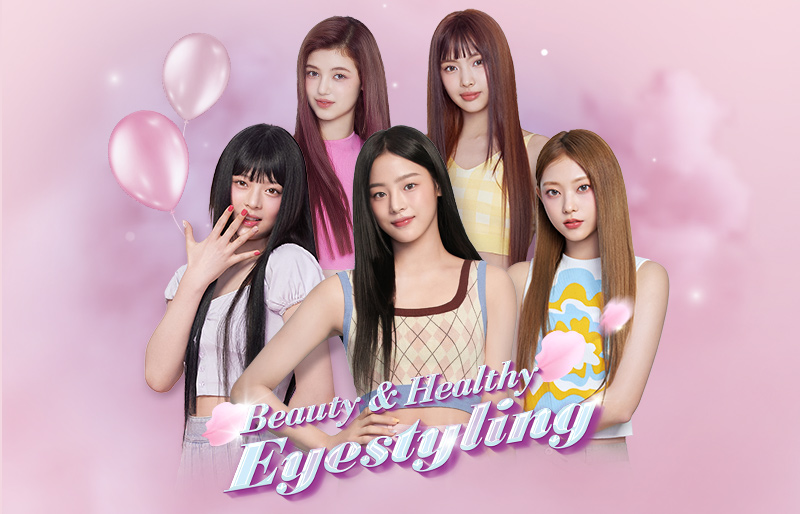 New Jeans
I feel like spring brings us lots of beauty brands sharing with us their new muses and ambassadors. Olens selected New Jeans - a K-pop girl group. They debuted in 2022 with the song Attention. The band has 5 members Minji (민지), Hanni (하니), Danielle (다니엘), Haerin (해린) and Hyein (혜인). We already know which Olens lenses Hanni and Minji selected and now it's time for Danielle, Haerin and Hyein's choice.
About Olens
Olens is the no. 1 premium colour contact lens brand from South Korea. This brand makes regular lenses as well as coloured lenses. It's a pioneer in Beauty&Healthy eye styling, and it's a brand that is recognised all over the world. Olens products were used in many Kdramas and photoshoots. The brand was in the spotlight of many beauty programs in Korea.
Can coloured lenses be corrective?
I feel like many people think that contact lenses are not for eyes with no vision problems and that coloured lenses shouldn't be used by people with vision issues. That's not true! The main reason for wearing lenses for many people is aesthetic issues or comfort issues - I started to wear lenses because I find glasses more problematic, and they usually don't fit me well. Lenses don't make me tired and I feel like thanks to contact lenses my sight is doing better than it would do with glasses. Coloured lenses are sometimes called "cosmetic lenses" since they change the visual colour of your iris, and that's something some people don't know - when you buy coloured lenses from Olens you can fit them to your needs, if you need corrective aspect of lenses, you can choose the shade of the lens and power. All the lenses I tested in this post are -3.00 power.
How to choose lenses for my eyes and skin?
If you want to try Olens so badly, but don't know what colour fits your skin - Olens has the
#FindMyOlens
option which helps you choose a lens shade that fits your skin tone. You can also choose graphic size and colour. There are even styling videos that can help you choose a makeup style to fit your eyes with Olens lenses on.
Which lenses were selected by Danielle and Hyein?
Danielle, Haerin and Hyein selected lenses from the French Shine series. The lenses are used by New Jeans during magazine photoshoots, on stage and other occasions. If you wonder which lenses were chosen by Hanni and Minji - check the previous Olens post. Haerin is using Nils Gray lenses.
What's Puscon?
Since lenses used by New Jeans are mostly based on Puscon (only Haerin uses Nils Gray which are lenses made with HEMA material) it's good to know what you're using. Some of the puscon's features you should know about is that puscon is the safest bio material for contact lenses. It forms something called a "Strong Hydration Shield". It adds more moisture to the eye. Puscon prevents protein deposition and has a strong UV-block function to protect your eyes from UV radiation. Yes, UV radiation is dangerous for eyes, and it's quite rare to find lenses that block UV. My regular monthly lenses are made out of silicone-hydrogel, and puscon is more comfortable since it contains even more water and they don't get dry as fast.
Danielle's choice - Olens French Shine Lavender
DIA (diameter) 14,2 mm | G.DIA (graphic diameter) 13,2 mm | Base curve 8.7mm | Water content: 48% | Material: Puscon
French shine lenses are boosing floral aesthetic. It's a mix of soft and mild colours to brighten the eye. Lavender ones have a gold-tinted shade. I find them super comfortable to wear - the material is moisturizing, and I don't have any issues with lenses - I even took naps in them.
These lenses would look gorgeous on darker eyes since my eyes look a bit paler and it's not an effect I enjoy - yes, every girl's dream, when I was a teen, was blue light eyes but somehow thanks to Olens I found out that I feel more comfortable in darker lenses. Still, Lavender lenses are looking gorgeous in photoshoots so if you want to appear more delicate and soft, it's a good choice
Hyein's choice - Olens French Shine Hazel
DIA (diameter) 14,2 mm | G.DIA (graphic diameter) 13,2 mm | Base curve 8.7mm | Water content: 48% | Material: Puscon
French shine lenses are boosing floral aesthetic. It's a mix of soft and mild colours to brighten the eye. Sunset hazel shade is a shade which I think I like the most from the entire collection.
They kinda make me look different. These lenses are a bit warmer, but even with my cold skin they work nicely, they add more depth to my eyes. If you're not sure how these lenses are going to work on darker eyes - start with Hazel ones.
Olens French Shine Gray
DIA (diameter) 14,2 mm | G.DIA (graphic diameter) 13,2 mm | Base curve 8.7mm | Water content: 48% | Material: Puscon
French shine series has another colour worth noticing - Gray shade which I kinda like. When I was a kid I heard lots of jokes about my eyes being gray - now they are. Honestly, it's one of the coolest shades since it looks super natural on the eyes - no matter if you have dark or light eyes, this shade is universal. By the way, the French Shine series slogan is "Shine your eyes, Shine your days" and I have to admit - it fits this series very well since I would recommend using these lenses during spring photoshoots. These lenses look soft and they naturally enlarge eyes.
How much does Olens French Shine series cost?
A box of 10pcs (5 pairs) of Olens French Shine lenses costs $21 and it's available in three shades: Lavender, Hazel and Gray. You can choose between 0.00 to -8.00 power which in my opinion is a huge choice. What's cool about this series - they naturally enlarge eyes and it's a new March collection!
Olens x New Jeans event
To celebrate new Olens muses New Jeans the brand prepared a giveaway in which you can win Olens x New Jeans lenses and Carin Sunglasses, the brand is going to select 10 winners and all you have to do is check Olens website event. The giveaway task is on their website. The event is due on march 31st so you still have some time.
I am from the US, can I still order lenses from Olens?
Yes. Contact lenses in the US are not sold as easily as in Europe. In comparison, in Europe, I can ask my optometrist or eye doctor to order lenses for me or I can order them on my own. Some brands are available in stores so even if you're out of lenses you can buy them. I had a situation when I got my first lenses and I didn't know that 1-day lenses are not as easy to put as 1-month lenses I needed to grab new pair in a random drugstore in Paris. The US situation looks different because of US FCLCA (The Fairness to Contact Lens Consumers Act) so Olens can be ordered if you're living in the US but your lenses will go through a prescription verification system.
Where to buy Olens lenses?
Olens has free standard shipping for orders over $100 and free express shipping for orders over $150. You can use my code BETWEENDOTS to save 10% on your Olens order.
I'm happy that New Jeans is Olens brand ambassador since I'm a huge fan of their songs - I might not be crazy about K-pop like many fans, but it's one of the bands you can find on my playlist.
Which Olens x New Jeans lenses do you prefer? Double Tint or French Shine?